Uniqueness of TFE Application
With development for its unique TFE Application since 1978, SP Industries has proven itself to be a pioneer and leading company of Fluorine coating.
The combination of perfect cleaning and TFE coating creates smooth surface with ultra-thin layer.
The excellent anti-adherence of this coating prevents major problems in paper making caused by deposit accumulation.
Direct and normal temperature application enable us to work at your site during machine down time. Since it does not require any curing time, immediate operation after coating is possible.
The cleaning technique, developed under our long experiences, is also our expertise.
This professional knowledge of how to remove all kinds of deposit and our actual skills has won a solid confidence of many paper mills. 
Major Effects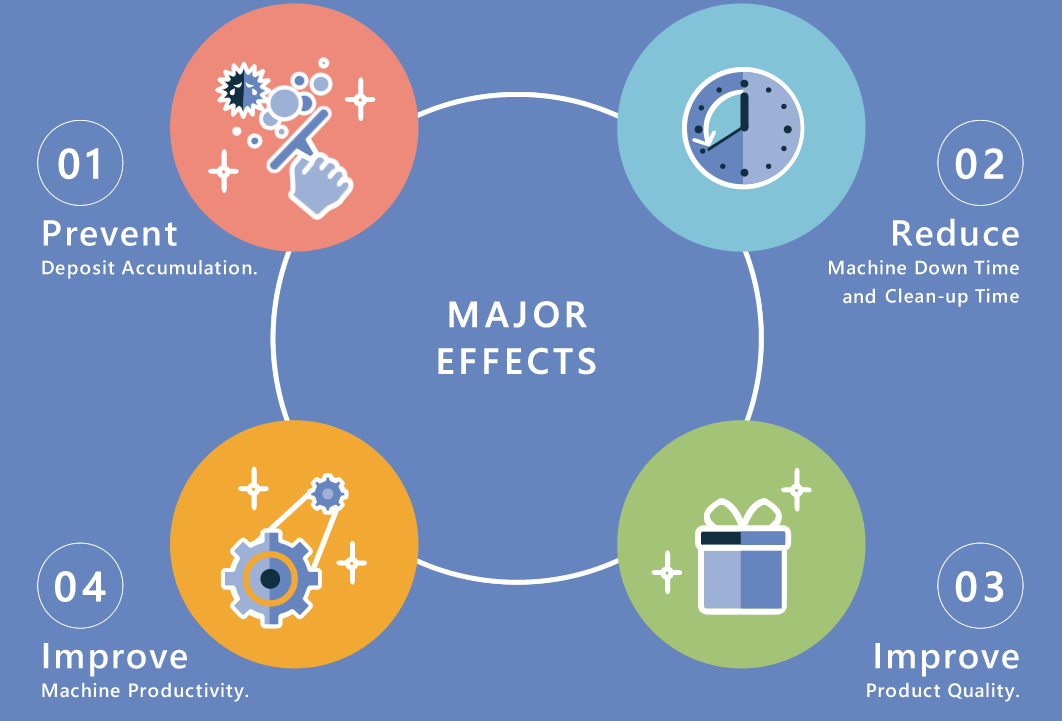 01

Prevent Deposit Accumulation

Excellent anti-adherent, ultra smooth and surface.

02

Reduce Machine Down Time and Clean-up Time

Easy maintenance, save maintenance cost and time.

03

Improve Product Quality

Cleanliness of machine is a key to high quality product.

04

Improve Machine Productivity

Good stability and runnability of machine.
Typical TFE Application used for pans and small parts requires a furnace.
However, this approach is not a adequate for paper machine parts which is already installed.
Friction Coefficient
1
Ice
0.027
2
TFE resin
0.04
Solid Iudricant
3
Graphite
0.12
4
Moly bdanum disulfide
0.12
Plant Oil
5
Coco oil
0.12
6
Caster oil
0.16
Mineral oil
7
Machine oil
0.18
8
Freezer oil
0.21
9
Spindle oil
0.26
10
Turbine oil
0.28
11
Cylinder oil
0.31
12
Diesel engine oil
0.33
Source:Handbook of Mechanical Design published by Maruzen
Friction Coefficient
| Temperature(celsius) | Original weight loss(%hr) |
| --- | --- |
| 230-260 | 0.0001 |
| 320 | 0.0005 |
| 400 | 0.008 |
| 425 | 0.15 |
For continuous use of TFE,
the maximumtemprature is 260 degrees celsius. However, depending on the conditions, use at 300degrees celsius may be possible. There are examples of the use of TFE at 430 degree celsius for a very short time.
TFE Coating reduces friction coefficient and makes smoth and flat surface.
A metal surface is a continuation of dents and bumps. The tiny particles of TFE ( approx. 2μm on average) fill these pores and form ultra thin layer. The layer of TFE is very close to zero thickness and will not have any cracks or peal off. Our "Supercoat" improves the metal surface by making it smoother and flatter.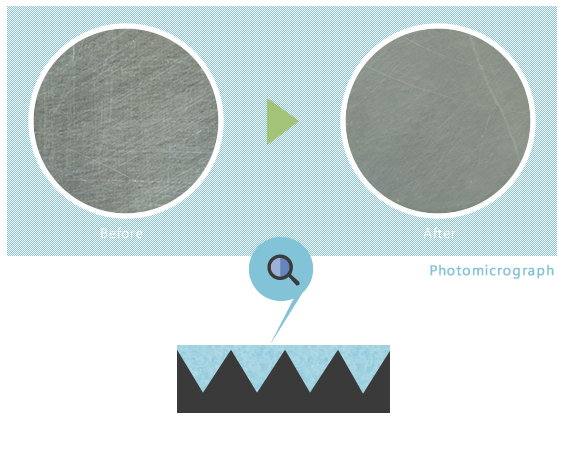 * We have already cleared the environmental regulations in US, in Europe, and in Asia.
Safety Data Sheet (SDS) is available.
・Headbox : All Inside & Underneath of the Bottom Lip
・Screen: ( Including Baskets and Agitator)
・Approach Piping
・Various Savealls, Tanks, Pans, etc.
・New or Rebuilt Machine: Even higher performance can be expected
Places with constant raw material flow are the most recommended.
* Please feel free to ask us if you have other parts that you wish to have coating, we will help you to find the best solutions.